2023-24 MAKALEI SEASON
We are happy to announce the return of the Makalei Canoe Club season for our youth paddlers for the 2023-24 season. Makalei is a program sponsored by Kailua Canoe Club that competes in the Nā 'Ōpio racing season.

Makalei accepts youth paddlers in Grades 3 through 12. Based on canoe availability, we may need to limit the number of paddlers accepted to the Makalei program, so be sure to register early.

On line registration will begin Monday, October 9, 2023. Practices will be Tuesdays and Thursdays from 3:30-5:15pm starting Thursday, November 2, 2023 at the Kailua Canoe Club paddling site. Races take place on Saturdays in December, January and February. Please be sure your youth paddler can make the commitment to this schedule prior to registering.
Download additional Makalei Information (Dues & Rules)
If you have any questions, please email kccregistrar@gmail.com.
Sorry, registration for the Makalei program is now closed for the season due to overwhelming response.
Note: Registration for Kailua Canoe Club for the 2024 Regatta Season will open in March, 2024.
He waʻa he moku, he moku he waʻa
A canoe is an island, an island is a canoe
Like the rest of Hawai'i and people around the world, the members and families of Kailua Canoe Club grieve the loss of life and community that has occurred on Maui. This unfathomable event has touched all of us, and we look to find ways that we can reach out and contribute in a way that best benefits the people of Maui. Many people have asked about what they can do to help individually that would have the biggest impact on the lives of our neighbor island sisters and brothers.

The Hawaii Community Foundation Maui Strong organization has developed a page for financial contributions. HCF is working with multiple non-profit agencies on Maui to best distribute the funds for community needs. They are providing financial resources that are deployed quickly, with a focus on rapid response and recovery.

Click here to give whatever you are able to assist with this ongoing tragedy.

We stand with our Maui 'ohana. Please keep them in your thoughts and prayers as they negotiate this long challenging journey. Me ke aloha pau'ole.

PRESIDENT'S MESSAGE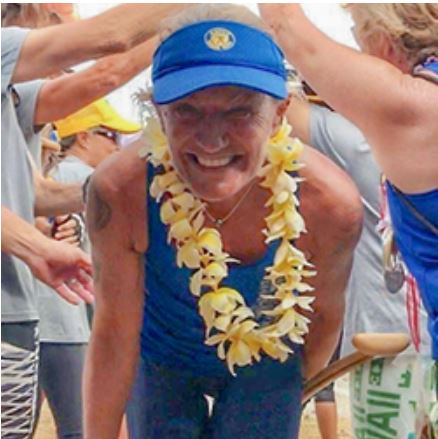 Welcome to the 2023 Paddle Season and Our Kailua Canoe Club 'Ohana!
Aloha- I am Julie Madden and it is my honor and privilege to return for another year to serve as President of the Kailua Canoe Club Board of Directors for Kailua's 51st year!
If you are new to our Kailua 'Ohana – welcome, if returning, mahalo and welcome back!
Big MAHALO to all of our Coaches, the Board of Directors, our members, and their 'ohana, for a successful first season back last year, after our 2-year pandemic break. It's amazing what we can do together. It was so wonderful to see generations, literally, of 'ohana back out on the water together. This year let's grow even more!
As stated in our Mission Statement- we strive to give members "a sense of family and community in conjunction with the ocean" and to "paddle with passion and excellence, and live the values represented by the word "Aloha"
A – Akahai – Kindness, expressed with tenderness
L – Lōkahi – Unity, expressed with harmony
O – 'Olu'olu – Agreeable, expressed with pleasantness
H – Ha'aha'a – Humility, expressed with modesty
A – Ahonui – Patience, expressed with perseverance
Welcome to the family! Wishing you passion, excellence, and much Aloha! See you on the water!
HEAD COACH MESSAGE
My name is Rob Cates and I am the Head Coach for Kailua Canoe Club. I have been a paddler for Kailua Canoe Club for over 50 years.
I look forward to guiding the coaches and paddlers of Kailua Canoe Club in the 2023 season and building on last year's results. By encouraging more paddlers to actively participate in our programs, together we can grow our club and continue to provide a safe, fun and competitive environment for our members.
Welcome!
COVID
Kailua Canoe Club encourages and asks all paddlers to practice safe COVID measures and provides the following links:

CDC COVID Guidelines
Click here

STATE COVID Guidelines
Click here

CITY & COUNTY GUIDELINES
Click here